History Alive! presenter Rebecca Park of Charleston visited Braxton County to portray Colonel Ruby Bradley at Sutton Public Library and Little Birch Elementary. Her visit was brought to the county by Friends of the Sutton Public Library, who sponsored and coordinated the events.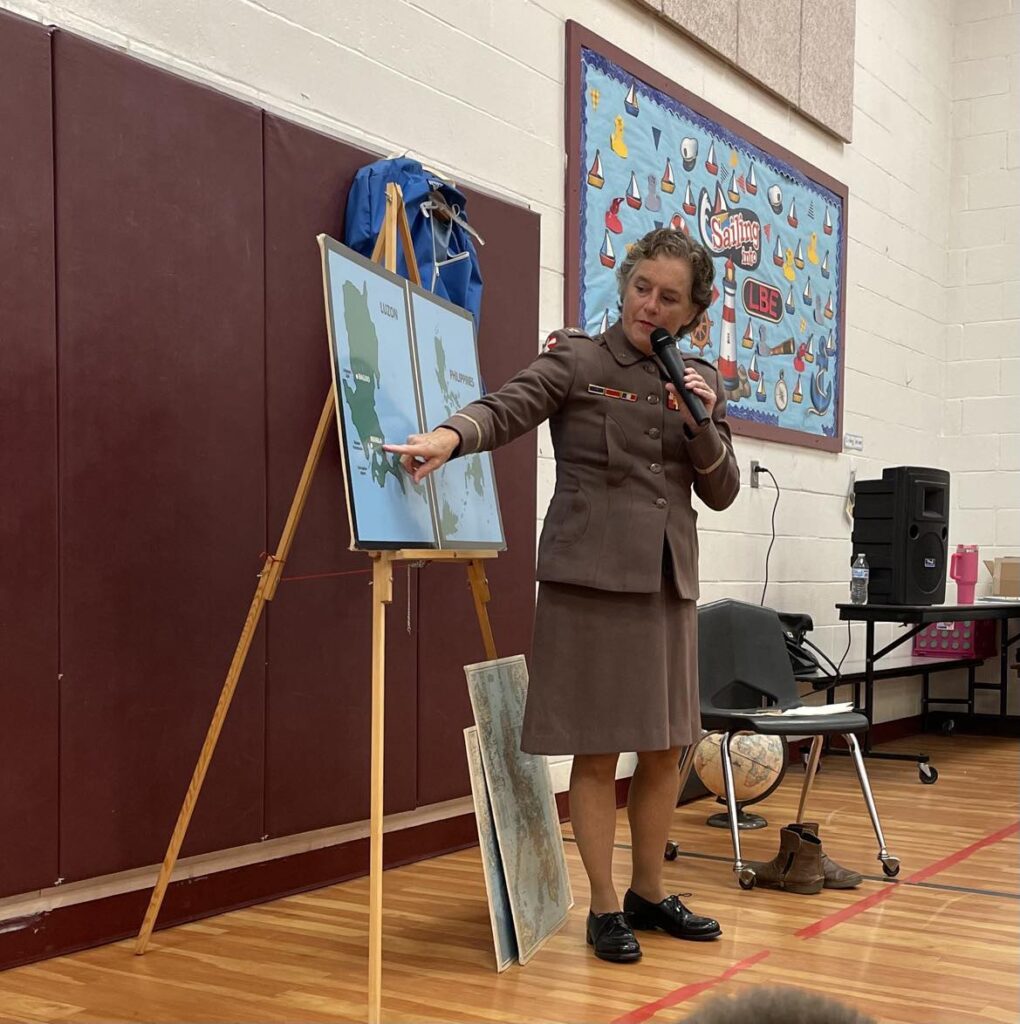 Park's audience on November 6 included fourth and fifth graders from Sutton Elementary, accompanied by their teachers to Sutton Public Library, third through fifth graders at Little Birch Elementary, homeschoolers and community members from across the county, including a Korean War veteran.
Col. Bradley was a United States Army Nurse Corps officer, a prisoner of the Japanese in World War II, and a native of Spencer, West Virginia. She is also one of the most decorated women in United States military history.
Before she joined the U.S. Army Nurse Corps, Bradley was a teacher in a one-room schoolhouse in Roane County. In 1933 she graduated from the Philadelphia General Hospital School of Nursing, and the next year entered the Nurse Corps as a surgical nurse, working at the Walter Reed General Hospital in Washington, D.C.
She later served at Camp John Hay in the Philippines where she was captured by the Japanese Army three weeks after the attack on Pearl Harbor on December 7, 1941. In 1943, Bradley was moved to the Santo Tomas Internment Camp in Manila. While there, she and several other imprisoned nurses earned the title "Angels in Fatigues" from fellow captives.
When United States troops captured the camp on February 3, 1945, Bradley weighed only 86 pounds. Park relayed to her audiences, as Bradley, how scarce food was in the camp and described how just a single peanut felt like such a treat after subsiding mostly on a watery rice "stew" that was served for most meals, and not in nearly enough quantity to sustain them.
Park told the audience at Sutton Public Library how she came to portray Bradley, after a friend exclaimed that somebody needed to shed more light on this important woman in WV (and U.S.) history. Park had previously been portraying Sudner Tanner, the first settler woman in what is now Spencer, WV.
Park's performance as Bradley left her audience rapt and sparked great questions from the students of Sutton Elementary attending at the library. Students were particularly interested in her time as a POW and what happened to many of the people she mentioned in telling her own story.
History Alive! is a program provided by the West Virginia Humanities Council featuring scholars from around the state who portray historical figures at venues including museums, schools, libraries, community centers, and fairs and festivals.
Friends of Sutton Public Library generously fund a History Alive! presentation for the community annually, usually in the fall. Stay up to date by following Sutton Public Library's social media and website for future events.